General Chiropractic Care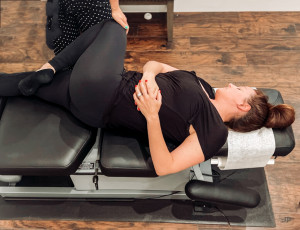 In addition to our specialty in prenatal, postnatal, and pediatric chiropractic, all our doctors are pleased to offer gentle, effective general chiropractic care to support a variety of physical and emotional discomforts including:
Neck Pain & Stiffness
Headaches & Migraines
Upper, Mid, or Low Back Pain
Radiating Pain
Postural Distortions
Sciatica
Numbness/Tingling
While our patients typically seek us out for physical discomforts, oftentimes they experience improvements in other parts of their health, including:
Better quality sleep
Improved mobility
Increased energy levels
Improved focus, concentration, and mental clarity
Regulated digestion
Stronger immune system
Whether you've been experiencing chronic pain or problems or have an injury you're looking to resolve, we're here for you and can't wait to help you get back to functioning at your best.
Our Popular Techniques
Our techniques are gentle and customized to each practice member. Whether you're pregnant, a newly born baby, a struggling child or experiencing uncomfortable symptoms, you are in the right place and we are able to serve you. Our approaches include:
Diversified technique
Thompson Drop-Table Technique
ArthroStim
Activator Adjusting Instrument
SOT Blocks
Flexion Distraction
Vibration Plates
Frequently Asked Questions
We want to make you an active partner in your health, and will always encourage you to ask any and all questions you might have about undergoing care with us. Below are some of the questions we hear most often from new patients. If you have questions not answered below, feel free to reach out to us directly-we'd love to help you understand care better. Once I come in, will I need to visit forever?
Care with us is entirely up to you. We'll never force patients to visit us-we'll simply give you our recommendations for what may work best for your problems. You're free to visit us regularly or simply when you feel you need a tune-up-whatever works for you, works for us.
How many adjustments until I see results?
It's difficult to say until we
see you in our care and evaluate your specific needs
. While each patient is different, some see results quickly after just a few visits. Others with chronic problems may take longer to see improvement. We'll always be open and honest with you about the length of your care.
Can I book a visit for the entire family?
Absolutely! We love welcoming entire generations into our care. Just let us know how many people will be coming when booking your visit so we can make sure to have the adequate time you need to feel listened to and heard.
Most of our patients find adjustments entirely tolerable-even relaxing. We hope that you find adjustments to be stress free and pain free. For children, care is even gentler-most don't even know they're being adjusted when it happens. If you're nervous, we'll be sure to explain every part of the process to you beforehand to help put you at ease.
Our initial appointment is $150 and is approximately 45 minutes long. This appointment includes a comprehensive consultation with the doctor where they will review your health history, your reason for seeking our care and assist you in customizing your personal health goals. After your consultation, the doctor will take you through a series of exam procedures examining your posture, muscle and tension imbalances as well as spinal joint dysfunction. Additional testing such as x-rays and non-invasive computer scans may also be incorporated. Assuming the doctor does not find any red flags that would warrant further examination, your first chiropractic adjustment will be performed, as well. At your follow up visit, the doctor will put together a recommended course of treatment after reviewing your exam findings and incorporating your shared health goals. At this appointment, the doctor will also review your financial investment. While recommendations will vary greatly between pediatric care, prenatal care and general chiropractic care, visits will generally consist of appointments over the course 3-12 weeks and can cost between $300-$700 total with flexible payment plans available.
We welcome you with open arms
and want to make your visit affordable. We offer flexible payment options, accept all major credit cards, and are happy to provide superbills for insurance.
We'd Love to Help You
If you're wondering how chiropractic care can positively influence your life or a loved one live, we'd love to see you! Contact us today to learn more and to book your first appointment-we can't wait to welcome you into our care. Get started today! Book Now
---
Chiropractic Care | (303) 777-0828